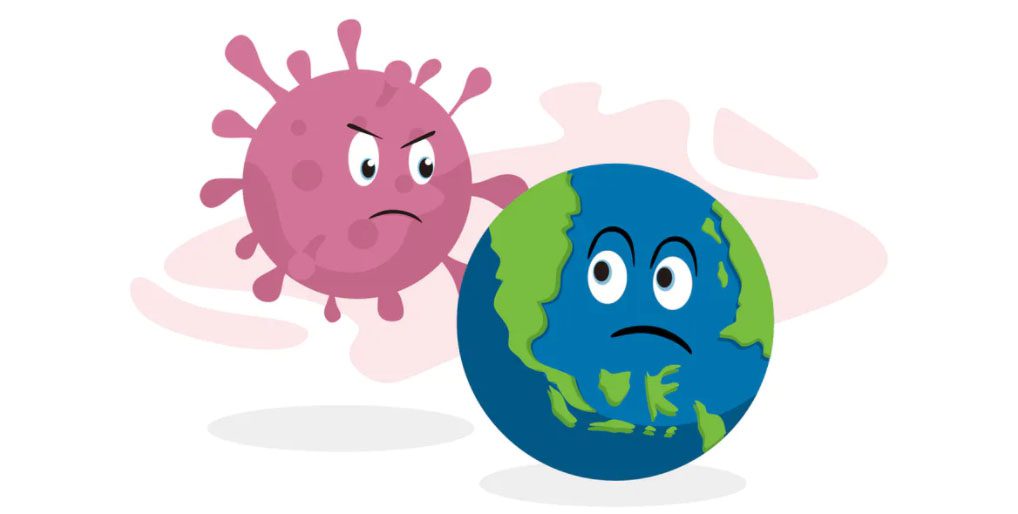 BUSINESS CAN BE THE COVID-19 PROBLEM SOLVER FOR SCHOOLS
This article is an attempt to present solutions to stopping the spread of COVID-19, instead of complaining and waiting for others to solve the approach to the pandemic. Businesses don't have a choice but to solve it, businesses have to stay open! So, maybe we can try what some businesses are doing to operate under the expanded bubble conditions created by kids going back to school, Ideas to mitigate the risk.
Social Media and the mainstream media are talking about COVID-19 around the clock, everyone complains of a lack of planning, there is the mask-or-no-mask debate, and in the US the pandemic response is divided completely by politics, as if the virus cares. So, nothing constructive gets done, the pandemic rages on and everyone seems to be missing the point. Its not just about you!
There seems to be a few categories of people with varying beliefs:
Those that think COVID -19 is a hoax
Those that think COVID-19 is a huge over reaction
Those that refuse to comply to basics like distancing, washing hands and masks in public
Those who are taking COVID-19 seriously and sticking to their bubbles
Those who are at high risk and remaining secluded as much as possible
Those who are taking the COVID-19 pandemic so seriously that lockdown has lasted 7 months
NO MATTER WHICH ONE OF THE CATEGORIES YOU FALL UNDER ABOVE, THE VIRUS doesn't CARE WHAT YOU BELIEVE. OUR PROXIMITY TO HIGH RISK POPULATIONS IS WHY COVID-19 SO SHOULD BE A BIG DEAL TO EVERYBODY.
IF YOU don't BELIEVE COVID-19 EXISTS, THEN LOOK AROUND YOU, HUNDREDS OF THOUSANDS OF PEOPLE HAVE DIED AND EVERYONE HAS TO PLAY THEIR ROLE. WE CAN AGREE THAT NOT EVERY COVID CASE IS DANGEROUS TO EVERY INDIVIDUAL, BUT YOU COULD LITERALLY BE RESPONSIBLE FOR THE DEATH OF SOMEONE ELSE!
COVID-19 IS HERE TO STAY UNTIL ITS NOT, AND EVERYONE HAS TO PARTICIPATE IN REMOVING ALL SIGNS OF COVID-19 FROM OUR LIVES AND FROM THE MEDIA AND SOCIAL MEDIA. UNTIL THEN THE THREAT OF LOCK DOWN EXISTS NO MATTER WHAT YOUR STANCE IS. IF BUSINESS IS TO SHUT DOWN AGAIN, THE PANDEMIC IS NO LONGER THE BIGGEST PROBLEM WE FACE.
Every time there is a spike in COVID cases it makes headline news, its as if the headline itself is designed to create panic instead of calmly telling the public the facts. It is the responsibility of all of us to react to facts from reliable sources and keep everything you read and hear in context.
PANIC OR CALM: THE MEDIA (AND YOU) CAN MAKE OR BREAK THE RESPONSE
News reports, social media and press conferences can make or break our response to COVID-19 in the future. The message can be completely taken the wrong way which will guarantee we go backwards! In some cases, the media has picked a side, so be careful where you get your information. This pandemic is no joke, but you would never that with the current ignorance and selfishness on display.
ALARMING HEADLINE: British Columbia records 37 new cases in one single day, the highest since April!
FACTUAL HEADLINE: A total of 37 new cases reported in British Columbia today, 14 are adults between the ages of 25 and 35 which were all contracted due to a single gathering, 18 cases were from testing, and whilst positive, were asymptomatic or mild symptoms, 3 cases are experiencing chronic symptoms and are recovering at home and 2 are in serious condition in hospital.
Out of the two examples above, which one reduces panic but stays with the truth and urgency that the COVID reporting should have to keep the public informed? It is obvious. Being an alarmist is irresponsible reporting considering every single person has different levels of risk tolerance and family situations. The factual headline gives context so that we can understand the whole situation and determine progress. Both headlines require us to take them seriously, but alarming headlines are designed to get a reaction, an overreaction, and can lead us to believe we are not making a difference.
Now consider the above headline examples are a much higher number of cases (try triple), like what the situation might be when schools go back?
ALARMING HEADLINE WOULD CREATE TOTAL PANIC AND GIVE AUTHORITIES NO CHOICE BUT TO ENFORCE A LOCK DOWN, FACTUAL HEADLINE PROVIDES THE SAME INFORMATION BUT IN CONTEXT OF REALITY AND THEREFORE ACCURATE AND LESS INCLINED TO CREATE PANIC.
BACK TO SCHOOL, BUSINESSES AND THE ECONOMY
There is no denying that everyone with children, will no longer be "in the bubble". By direct association, all businesses now need to be fully aware of this fact and step up their own COVID-19 mitigation policies to adapt to ensure that everyone remains safe and COVID free. How we proactively respond to the disappearance of the protective bubbles will be vital to winning this battle and staying open for business and education.
The School approach could follow the business approach to stay open
Employees with children are now more exposed to COVID-19 so therefore businesses have to take action. Our business has taken the following actions:
For the first three weeks that schools are open, everyone with children works from home. Feel it out, this is a BIG leap out of the bubble.
All employees are required to work according to the honor system, if you were at an increased risk for whatever reason, they work from home.
Staggered work hours so that the Warehouse can always be manned in a socially distant manner.
If an employee or a family member, are even slightly ill, the employee stays at home.
We identified the higher risk people and arranged for them to work from home.
Areas in our Warehouse have been marked out, that is as far as any outsider can enter. Sanitizer is used and masks are worn during shipping or receiving.
The office is a bubble for employees only.
Bathrooms sanitized daily
One employee in the kitchen at any one time
Contact tracing list for all visitors
SCHOOLS
If the schools follow the same or similar rules as a business, each school can dramatically mitigate the risk. It is NOT POSSIBLE TO SOCIALLY DISTANCE WITH EVERY STUDENT BACK AT SCHOOL AT THE SAME TIME. Here are some common strategies for business that could be used at school:
If you can learn from home, do so.
Consider holding your kids back from school for the first three weeks, see what patterns emerge.
Shifts with "POD BUBBLES" would go a long way to eliminating the spread of COVID-19. Pod Bubbles of 16 students, the same 16 students in the same bubble every day. Early shifts for the younger students, later shifts for the older students.
Wear masks at all times, and wash hands often. Social distance at all times.
Daily temperature taking for all family members, the kids may look fine, but perhaps they are not. Young students may be carriers of the virus, but never get it – never even know they have it without a test.
Stay at home if you feel even slightly sick, get tested if there are symptoms. It's the one time you can get a test.
Identify high risk members of your family, and stay away from them until a pattern develops and we know what we are dealing with.
We already have sufficient proof that sending students back to school "business as usual" could mean an immediate lock down or reversal in strategy.
SO FAR AFTER ONE WEEK, SEVEN STATES IN THE US HAVE COLLEGES THAT HAVE IMMEDIATELY STOPPED FACE TO FACE CLASSES AFTER HUNDREDS OF STUDENTS TESTED POSITIVE FOR COVID-19.
MOST UNIVERSITIES IN CANADA ARE NOT PROVIDING FACE TO FACE CLASSES UNTIL DECEMBER, WHY ARE SCHOOLS DIFFERENT?
If schools follow the business approach, there is a way forward so everybody gets what they want. Businesses have to stay open, and yes so do schools. However it's not possible, for business or schools, to just return to normal routines yet. It takes a strategy and the people (students/employees) following the strategy, and we can beat this pandemic.
Face to face classes might be possible in small pod bubbles in a planned rotation. Better still, a combination of in person classes and online learning to keep pod sizes small and social distancing possible with less bodies in a classroom at one time.
IMPORTANT NOTE: During the writing of this Blog we implemented our "back to school" COVID-19 employee policy as described earlier. One of our employees became ill yesterday and has stayed at home. He booked a COVID-19 test for today. I learned very fast, that complacency is easy, doing little things to remain open is a lot harder, but worth it! Our simple strategy may have stopped a certain closure of our office. I will update this post with the test results when they are received.
PLEASE BE PART OF THE SOLUTION.