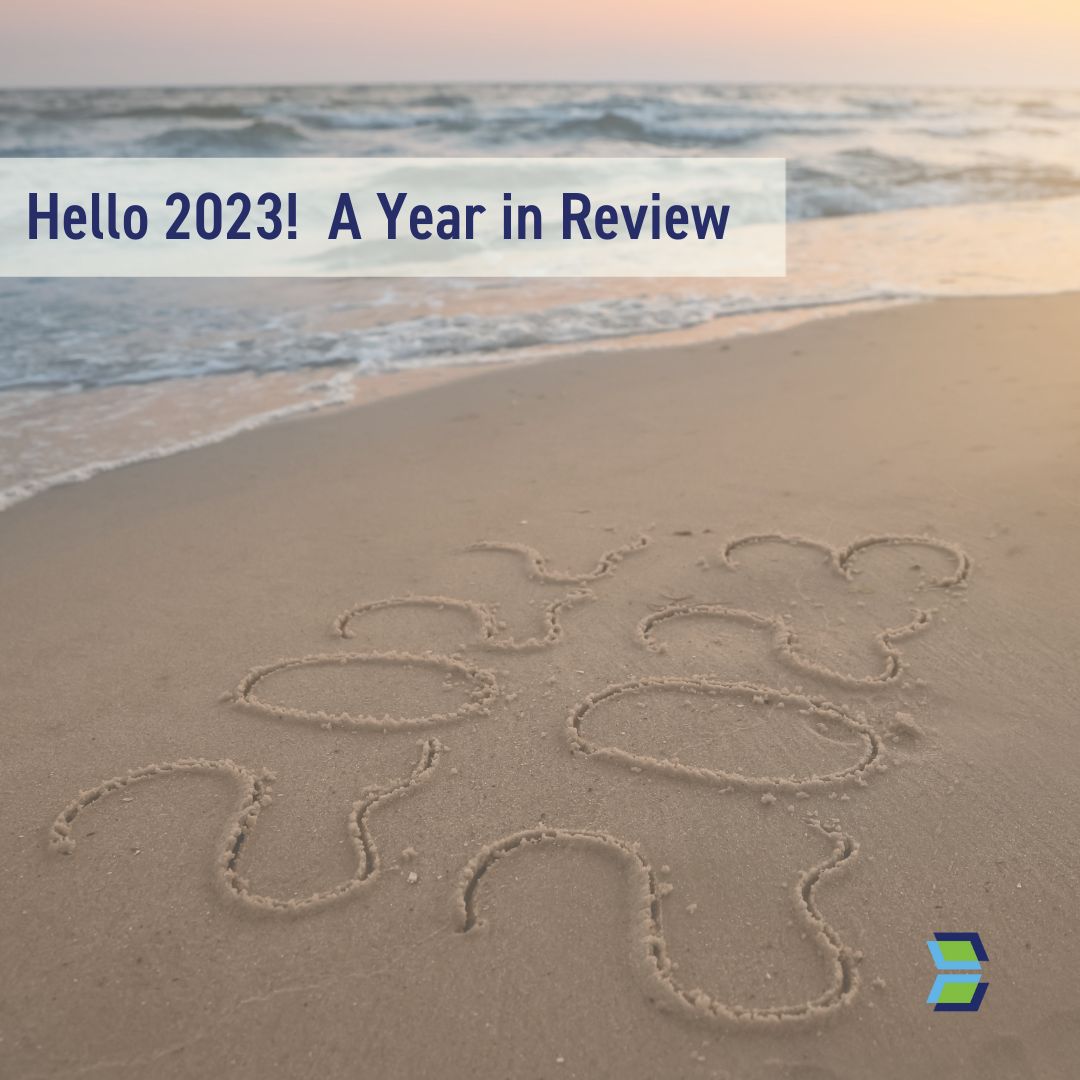 Hello 2023 – A Year In Review
Happy New Year!  
Hello, 2023!
Every year I always take time to reflect on the year gone by. It is always eye-opening to see the difference in what I thought would happen vs. realizing what obstacles I never anticipated, the people I had no idea I would meet, and the personal and company growth. But with all of it, there is overwhelming gratitude for it all. 
The Challenges
As we emerged from the COVID-19 pandemic and the subsequent recovery phase, it became apparent quickly that commodity shortages and shipping challenges would be the most significant obstacles we would face in 2022, and they did not disappoint. 
Once upon a time, we could take an order and turn it around in eight weeks. This year we found ourselves waiting eight months or more to fulfill our orders due to the shortages of metals and standard components. Staying true to our company values, we prioritized engaging in honest and proactive communication with our customers as we navigated the scarcity of metals and our critical components. The challenge of the supply chain was a balancing act. But we were not alone, our customers were also strategically navigating the supply chain crises. We made sure to be part of the discussion and, therefore, part of the solution. I cannot thank our customers and suppliers enough for their patience, flexibility, and understanding. With support in those areas, we were able to overcome these obstacles.
Exciting New Partnerships
Challenges aside, EMCS became part of an exciting new partnership in 2022. As of August 1st, EMCS has become the exclusive North American distributor for Cathelco Ltd products and services for MGPS (marine growth prevention systems) and ICCP (impressed current cathodic protection) product ranges to protect from marine fouling and corrosion. EMCS and Cathelco had shared values that align perfectly, primarily due to the genesis of the two companies being as one when it all started back in 1955. It made sense to work together again as we had up until 1983. 
In addition to our own manufactured MARELCO™ suite of antifouling solutions for marine growth protection, the distribution of Cathelco products and services meant we could provide our customers with one focused provider local to the territory and dedicated to ensuring consistently high levels of service. We knew our customers would benefit from the unparalleled wealth of experience from the innovators and leaders of marine growth protection systems.
EMCS Industries Ltd established a worldwide reputation with an employee presence throughout North America. With a manufacturing facility on the West Coast of Canada and employees based in Ontario and Prince Edward Island, and with the addition of a South African presence via a contract relationship there, it has allowed us to be available around the clock for processing UK-manufactured orders on time.
Growth
As we expanded our product offering, we expanded our manufacturing facility to cater to new and innovative products and accommodate office space for the growth of our highly talented crew members in critical roles. 
In 2022 we welcomed four new full-time members to the team, Emily Robertson (Operations), Sidd Raol (Manufacturing), Teresa Lindsay (MARELCO™ New Business Development), and Tenille Villebrun (Cathelco New Business Development). We also welcomed Lynn Ferriman on contract as an administrator based in South Africa and looked forward to having Juan Gonzales back in the fold as an on-ship technician in 2023.
Goals Achieved
With our outstanding team in place, we have overcome many challenges to push through and achieve our goals. One huge accomplishment, that was high on our priority list, was implementing our new inventory tracking system and fine-tuning health and safety protocols with our growing team and facility. In the last 12 months, our Operations team has been diligent in solidifying standard operating procedures and quality control, so we continue to deliver world-class products and services to our customers.
Being Part of The Conversation And The Solution
Energy Efficiency Existing Ship Index (EEXI), Carbon Intensity Indicator (CII), and aquatic biosecurity concerns had owners and operators in the marine industry racing to meet these mandatory measures and standards.
In 2022 we focused on highlighting and educating how antifouling and anticorrosion can play a part in helping the industry meet these requirements. If you read our BLOGS regularly, you will see that last year, we dedicated this space to this topic and the solutions we can provide to the cruise, ferry, and shipping industry, along with our first live webinar on LinkedIn dedicated to the role of antifouling and anticorrosion in these measures.
Decarbonizing to help prevent pollution is marine world-speak in 2022 and will intensify in 2023, with zero emissions as the target for 2050 or before. As we enter this new year, we will continue to remind customers that changing fuel types are not the only solution; reducing ship weight and drag is an overlooked and underrated method in reaching these goals and a less expensive start toward 'Zero".
But reducing carbon emissions and preventing pollution was not the only environmental concern and challenge for the marine industry. Biosecurity is a second—not a secondary—environmental concern and challenge! We continue to remind the marine industry that antifouling is a bang-for-the-buck way for ship owners/operators to contribute to reducing pollution and aquatic invasions and that with minimal capital investment, innovative antifouling solutions such as MARELCO™ solutions are a must to help the marine industry remove fouling and prevent corrosion, contributing positively to meeting two environmental goals: reducing pollution and biosecurity. 
Research, Develop and Innovate
It was an honor in 2022 to be identified as 'One to Watch' in innovation in marine biofouling after entering our sustainable antifouling solution into an international biofouling innovation challenge—this collaboration of the World Ocean Council (WOC) and The Ocean Opportunity Lab (TOOL). TOOL and the WOC have mapped the world of biofouling innovators. While we didn't win the top honors, we are noted as one of 20 stakeholders battling biofouling and invasive aquatic species and pushing for environmentally friendly antifouling solutions. As such were cited as one of a group of "high potential biofouling innovators" to watch in the future. 
Our commitment to bringing sustainable biofouling solutions to market began in 2016 when we acquired an acoustic-based technology product that now forms an integral part of our sustainable product development. This low-frequency acoustic antifouling system dates back to the 1980s. The system does not harm or kill hard-fouling organisms but deters them from attaching. Where it does not protect against or remove soft fouling, it does not interfere with any electrolysis or cause harm to steel in ships' internal seawater systems. A big plus of the system is that it is installed on the inboard side of the vessel and, therefore, can be installed while in service. 
Our goal for 2023 and beyond is to develop a fully sustainable product that reduces the ocean's toxins and tackles decarbonization and aquatic biosecurity. But, as with all other sustainable initiatives, it is a lengthy and expensive process. Our initial goal is to reduce our toxin impact on the environment by at least 75%; we already have a design that will achieve, at minimum, a 50% reduction in harmful effects on the ocean ecosystems. 
Our sustainability goals using our antifouling and anticorrosion products are to reduce emissions, contribute to eradicating cross-contamination of species, reduce noise pollution, and continue to reduce the level of toxins released into the ocean. 
As we venture into further research and development, we are excited to partner with Cathelco Ltd., which share EMCS's commitment to finding more sustainable product solutions for antifouling and anticorrosion solutions. We look forward to exploring the developmental opportunities arising from our combined efforts. I want to thank Dr. Susan Tasker (EMCS Research + Development Manager) for building the comprehensive studies that will form the backbone of our ongoing independent research conducted by scientists in Australia, Canada, and the UK.
It Is All About The Team
Our people were by far the most impactful development this year. Our team of talent have solidified into a family of exceptional human beings. Everyone is committed and outstanding at what they do, and the massive contribution from this group is the only reason we have succeeded in overcoming all the challenges that 2022 could throw at us. 
It sounds very cliché, but it is accurate. We are a family of like-minded people with a common goal of seeing the company succeed. My primary goal as CEO is to develop a positive work culture in the organization, which vicariously increases efficiency and productivity. I firmly believe that each team member must feel empowered to make the right decisions in difficult times. And as important is that all are motivated to be the best they can be in a safe environment and accepting environment. We don't take ourselves too seriously. There must be a time to work hard, but there must be a time to laugh out loud. Both exist in this tightly knit group that I am lucky enough to have to support my efforts in striving to have EMCS recognized as the best in our industry. 
I have always encouraged a healthy exchange of ideas where we find the answers together. It's a no-brainer that this benefits the company, the team, and our customers as we grow. As long as we all have self-awareness (understanding our strengths and weaknesses), self-management (managing emotions during a difficult situation), and social awareness (understanding the perspective and feelings of others), with the ability to manage relationships respectfully (resolving conflicts, mentoring, influencing, and coaching) we can achieve anything.
Introducing The Family 
Twenty-twenty-three looks bright, and it will be down to these outstanding people. . .
Cory Wade, Vice President and CFO, has continued to ensure we are stable financially and operationally sound. In short, he is my peace of mind.
Nicola Kennedy, Production and Inventory Manager, has taken our productivity to the next level and continues to improve our process.
Lyle Regamey, Technical and Logistics Manager, is our wealth of technical knowledge that supports all our projects with his expertise.
Emily Robertson, Service and Accounts Receivable Manager, keeps everyone in line and is responsible for the critical task of getting service technicians to their destinations all over the world.
Jess Glover, Senior Accounts Manager, plays the vital role of ensuring our existing customers get their orders processed on time, and enjoy the experience.
Bev Renny, Central Administration Manager, ensures that process is documented and followed, orders are processed, and the entire office is kept smiling every day.
Meghan Raza, Brand and Business Manager, located in PEI Meghan is the reason we are well known for our brand, she is also a tremendous support to the sales team and always brings energy.
Tenille Villebrun, Business Development Manager Cathelco Products, is a natural entrepreneur with tremendous instincts and tons of initiative. She is responsible for all of Cathelco business.
Teresa Lindsay, New Business Development Manager of MARELCO™ products, is a consummate professional with decades of success under her belt and a genuine desire to see customers and the team succeed.
Susan Tasker, Research and Development Manager, is responsible for heading up our sustainable product research and building independent studies to gather the data required for the development.
Juan Gonzales, Technician, will be returning to EMCS at the beginning of 2023 as our newest on-ship technician, Juan was in manufacturing with us before he took some time off to study as an electrician.
Sidd Raol, Manufacturing, is an incredibly loyal person and hard worker with attention to detail, he is a willing team player always finding different ways to contribute to the team.
Gisele Harding, Bookkeeper, has been doing our books since day one of my ownership of EMCS, another person who's total reliability contributes to my peace of mind.
Liam Stevens, Process Developer, works part-time for us while he completes his degree, he has tried in vain to leave, but we won't let him.
Lynn Ferriman, Administrative Contractor Cathelco Business, is based in Johannesburg South Africa and is our liaison between Cathelco and ourselves working in the UK time zone.
Then, of course, Lily, Koda and Cali provide unconditional love to us all.
Welcome, 2023. The EMCS Crew is ready for you!
Wishing you all the best for 2023!
Trevor Tasker
President + CEO