EMCS Industries Ltd. is committed to providing our customers world-class service and continued expertise in our field.
We are a well-known company with a legacy of being in business since 1955. Most importantly, we are the inventors and manufacturers of the first marine growth protection system. However, even with proven product and service results, we continually strive to improve business, brand, and service.
In 2020, most of us took time to pause and reflect, and EMCS Industries was no different. It was time to look back at the company and the brand. To help us in our continuous improvement endeavors, we worked with a leading global business, brand, PR, and communications company dedicated to the marine and energy markets. The reason for doing this was to understand further how we could continue to innovate and deliver world-class products and services to our customers in this emerging new world. As well as communicate our company values alike. We are grateful they could connect with our customers on several topics and give us valuable testimonials and feedback.
Below we provide a snapshot of the comments/testimonials we received as part of this process.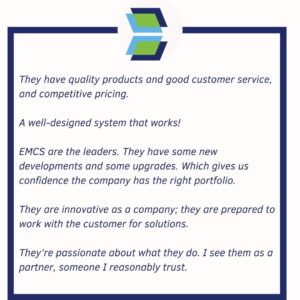 A trusted manufacturer and service provider since 1955, we are the 'invisible partner' you can count on for trusted marine growth protection.