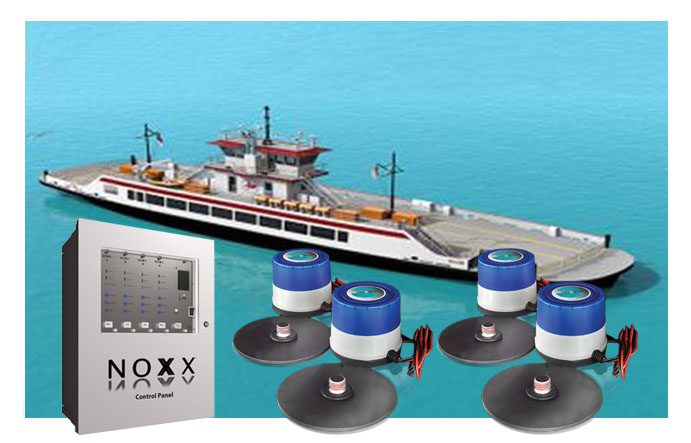 BOLLINGER SHIPYARDS AWARDS CONTRACT TO EMCS INDUSTRIES LTD TO PROVIDE THE NEXT GENERATION NOXX HYD™ NON-BIOCIDAL ANTIFOULING SOLUTION TO NEW NCDOT FERRY
July 27th, 2018: Bollinger Shipyards based in Lockport, LA has purchased the NOXX HYD™ Antifouling System from EMCS Industries Ltd for the new river class ferry ordered by the North Carolina Department of Transportation (NCDOT) to be used by the N.C. Ferry Division.
Due to be delivered by March 1, 2019 the new ferry, designed by Elliott Bay Design Group (EBDG), is 183 feet long and will have room for 38 regular-sized vehicles. It will serve as a replacement for the 22-year-old M/V Thomas A. Baum, a Hatteras-class ferry that carries 26 vehicles. The ferry is the first to be built by Bollinger Shipyards in its 60-year history.
The NOXX HYD™ [pat.pending] system is extremely environmentally friendly, it is a frequency based solution that replaces antifouling systems that release toxins into the oceans and lakes around the world, or that use cavitation.
NOXX HYD™ [pat.pending] uses a completely different science to prevent fouling. Solutions such as externally applied coatings, chlorine/copper and ultrasound originally used to inhibit the growth of marine pests on vessels, are replaced.
This is the third contract in the last 12 months where the NOXX HYD™ next generation eco friendly antifouling solution has been chosen for ferry vessels.
EMCS Industries Ltd is very proud to be associated with Bollinger Shipyards. Both businesses share a long history in the marine industry. Bollinger, a family owned and operated business since 1946 specializing in steel construction and vessel repair, and EMCS Industries Ltd the inventor and manufacturer of the first marine growth prevention system in 1950 and the NOXX HYD™ antifouling solution in 1974. Both companies have decades of experience in their fields.
About EMCS
EMCS Industries Ltd was originally established in 1955 in Victoria, British Columbia, Canada under the name Electrolytic Marine Corrosion Services by Lauder Ramsay (Director) and Frank Lewis Chappell (Technical Director) after the invention of the first Marine Growth Protection System (MGPS) in 1950.
This 100% Canadian product researched and engineered by Canadian engineers and electro-chemists who were part of EMCS is now sold globally under the name MARELCO™.
Today EMCS Industries Ltd owns the MARELCO™ trademark worldwide and continues to add new Antifouling solutions such as the NOXX HYD™ antifouling system for Commercial and Recreational Vessels, The MARELCO™ Hybrid System for large commercial vessels and anti corrosion solutions such as ICCP and Sacrificial Anode products.