All orders are delivered Ex-works (EXW) from our factory on Vancouver Island, British Columbia, Canada, unless requested otherwise. Orders are packed securely in crates that meet all international regulations for transit.
We offer a prepay and add freight service either DDU (Delivery Duties Unpaid) or DDP (Delivery Duties Paid) plus a 20% handling fee. Deliveries to Canada take on average 20 days delivery via ground or a few days by air. Deliveries depend on accurate paperwork and how busy the customs clearance brokers are in different countries. For the sake of shipping security, a delivery receipt may be asked of you by the delivery company.
Business days are Monday through Friday, excluding holidays determined by common and other freight carriers. We go by the terms on our quote or the terms of the purchase order for each order. The more information we have upon placing the order, the easier it is to select a shipping method that will provide value and speedy delivery.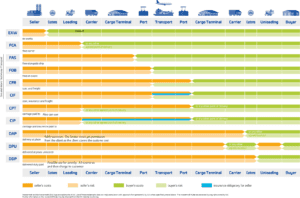 lead time
EMCS Industries Ltd. continues to tailor antifouling solutions to meet your needs. We provide proactive and reliable support from receipt of the Purchase Order to the commissioning of the product.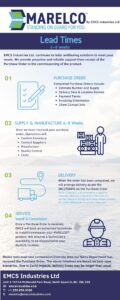 Cargo Hold PROGRAM
We know you have bigger things to think about when planning a dry dock than your antifouling solution!  Let us help you take the hassle out of this little necessity with our Cargo Hold program.  With prices rising rapidly in this volatile metals market, our Cargo Hold Program allows you to lock in your anode prices up to a year ahead and avoid any last minute surprises.
TAKE AWAY THE STRESS:
Avoid paying more than necessary for anodes in a rising metals market.

Rest easy knowing there will be no delays; your product is ready whenever you need it.

Check this small but vital component off your list early when planning your dry dock.
HERE'S HOW IT WORKS:
You place your order when budget allocated and dry dock scheduled. 

Your product will be manufactured immediately.

The product will be warehoused at no charge until you are ready for it.

We will invoice you on our standard Net 30-day payment terms

.

When you are ready to receive your product, we will coordinate

with your logistics company, or arrange shipping ourselves,

to any destination you require.